160x - Flare Gas Meter
Field computer & ultrasonic transducers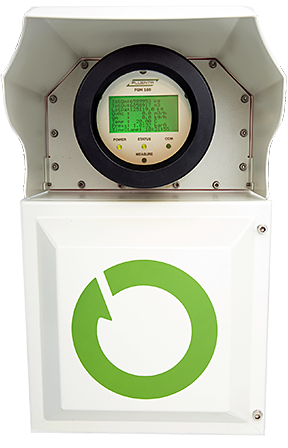 The Fluenta FGM 160 has been developed to measure flare gas in pipes
where pressure, a wide range of velocity and large pipe diameter
represent a challenge. Fluenta offers world - class flare gas meters
characterized by:
Optimal signal processing and acoustic sensors enabling flow measurement
up to 100 m/s
Digital Signal Processing
Software based user interface (Operator Console)
Easy and fast to install
Field mounted flow computer
Low maintenance costs
Serial interface based on Modbus protocol
Application
Measurement of flare and vent gas, characterized by a large velocity
range, low pressure and large pipe diameters
Flare gas density calculation for gas composition indications
Leak detection and loss calculation for mass balance in process
plants
Accurate measurement of very low flow rates in flare and vent
systems
Advantages
Widest velocity range on the market
Wetted non intrusive sensor design for all pipe sizes
High measurement accuracy throughout entire range
Unique signal processing ensures high accuracy at low flow rate
Fast response time
Certified for operation in hazardous areas
No calibration required after installation
Rapid installation gives reduced costs
Low maintenance
High reliability
Installation
Fluenta's FGM 160 has specially designed jigs for fast, economical and accurate mounting of transducer holders. These holders are welded onto the pipeline at an angle suitable for each different pipe size. The meter can either be delivered as a hot/cold tap version or with a prefabricated spool piece.
Operating principle
The Fluenta FGM 160 measures gas velocity based on the time–of–flight technique. The ultrasonic transducers are
mounted at an angle to the pipe. Both transducers transmit and receive pulses and the transit time is measured. When the gas is flowing in the pipe, the pulses travelling against the flow take longer to reach the opposite transducer than the pulse travelling with the flow. This time difference is used to calculate the velocity of the flowing medium.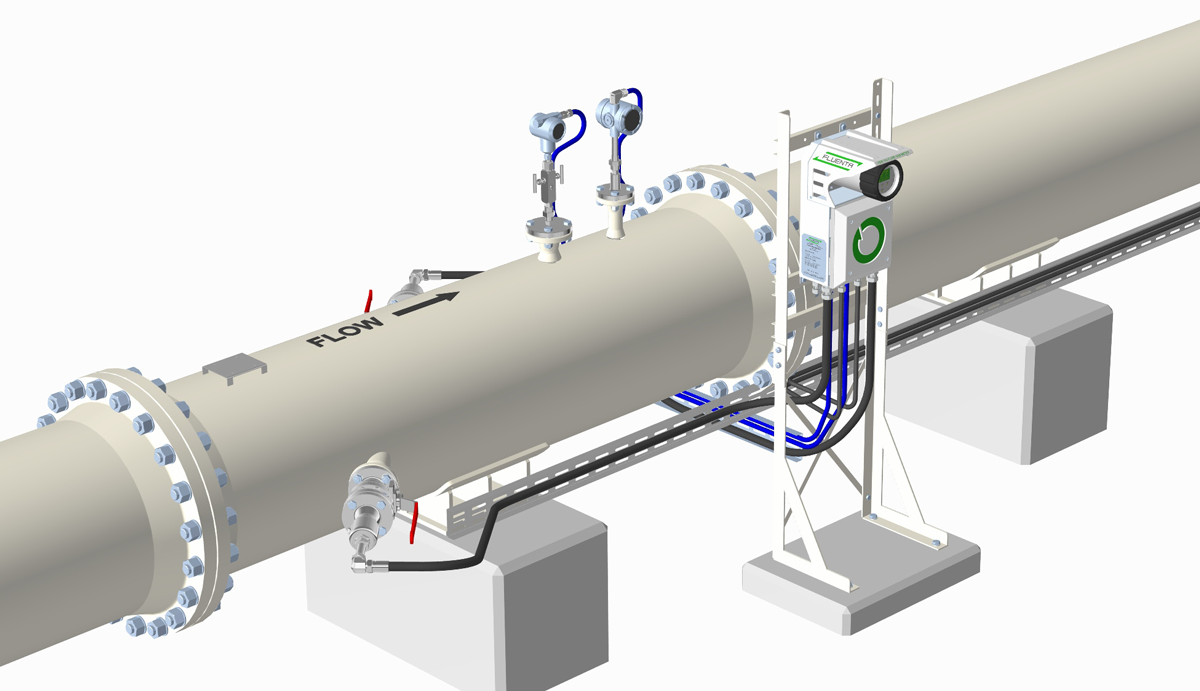 Specifications
Field computer
Power input:
+24 VDC

(20 – 32 VDC or 110 – 240 VAC
50/60 Hz, safe area power supply


optional)
Consumption:
13 W maximum
Power /

instrument cable :
Standard twisted pair:

RFOU(i)2-3 x 2
x 0.75mm2
Dimensions:
460 x 280 x 250mm (H x W x D)
Weight:
17 kg
Input signals:
Signal from transducers via std


instrument cable
Temperature & Pressure:
4-20 mA or HART interface
Output:
3 x 4-20 mA analog output channels, with selectable parameters.
RS 422/485 Serial Port based on Modbus protocol
Optional output:
Additional 3 x 4-20 mA channels
HART
Pulse/frequency
signal
Electrical classification:
Explosion proof
Ex de (ia) II C T6
Integrated Barriers
Ingressive Protection:
IP 66
System performance and characteristics
Pipe size:
6" and larger (smaller pipe

sizes
available on request)
Velocity range:
0,03 – 100 m/s (0.1 – 328 ft/s)
Uncertainty at 95%

confidence level
(fully

developed flow):
±2,5 – 5% of measured value for

Qv
Resolution:
0.0008 m/s
Repeatability:
Better than 1%
Turndown rangeability:
3330 : 1
Operation temperature
-110 °C - +145 °C (transducers)
-40 °C - +85 °C (electronics)
-50 °C - +60 °C (ambient temp)
Operating pressure:
0.8 – 10 Bar a
Design temperature:
-150 °C - +315 °C (transducers)
Design pressure:
20 Bar a (transducers)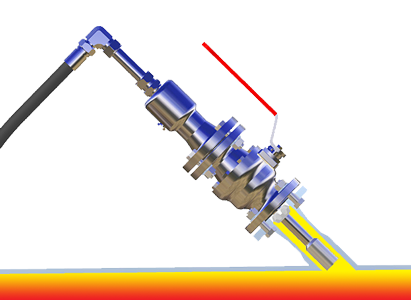 Operator Console
Trend curves of all relevant measured and calculated values
Full access to all parameters
Log of historical measurements
Reconfiguration and SW upload to field computer
Integrated service console
TCP/IP interface option for remote diagnostics and control