The Hoffer ACE II Cryogenic System
The ACE II Cryogenic System incorporates the newest technological advances in electronics and the time proven solutions in cryogenic measurement. The ACE II Cryogenic System is used to measure and record LIN, LOX, LAR, CO2 and other cryogenic liquids for truck deliveries and in-plant applications. The design is directed toward cryogenic service with ease of maintenance in mind.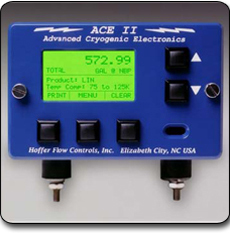 The ACE II Cryogenic System is paired with a Hoffer turbine flowmeter which uses hybrid ceramic ball bearings to prolong the life of the flowmeter in fluids that offer poor natural lubricity. The system also includes a printer for delivery ticket printouts and an installation kit. Individual components may be purchased separately.
The ACE II computer offers many features including graphical display and "soft keys" allowing easy interaction between operator and the instrument. Multiple, easy to follow messages displayed in full text help the user to navigate through the instrument menu. The menu is built up hierarchically for quick access to a desired function. Electronic circuits are constructed with rugged, multilayer boards and SMT (surface mount components). The advanced computation algorithm provides multiple methods for calculating volume, mass and density of the fluid. Extensive built-in diagnostic functions allow for quick troubleshooting and identifying faulty components. Communication to external computing devices is accomplished through the RS232 serial port, and front panel infrared port. ACE II supports standard MODBUS protocol.
The ACE II Cryogenic System complies with Handbook 44 (NIST), MIL-STD 810B Shock and Vibration, NBS TN 361, ASHRAE Physical Properties of CO2, State of California Weights and Measures, and CE for Europe.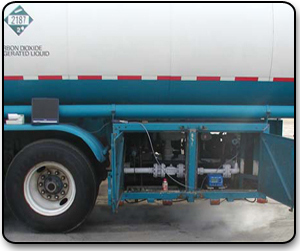 Hoffer Internals fit Daniel®'s Meters
Do you have a Daniel®'s flowmeter? Hoffer internals fit most Daniel® liquid meters and will save you both time and money. Call Hoffer or your local Hoffer representative for a cross over quote. The representative for your area may be found on www.hofferflow.com. Click on "Representatives" in the top right hand corner of the home page. Then select "Domestic Reps". Reps are listed alphabetically.
Hoffer flowmeters are offered in 1/4" through 12" sizes for in-line meters and up to 72" for insertion style flowmeters. A 5-year warranty is available on our HO Series. Hoffer also offers a range of electronics to provide read-out , rate, total, linearization, etc.
Conditioners, Amplifiers, and Transmitters
Hoffer Flow Controls is pleased to present the CAT Series of flow electronics, a new compact design of flow conditioners, amplifiers, and transmitters for use in combination with Hoffer turbine flowmeters. This trio of microprocessor based devices is capable of providing signal conditioning and amplification, as well as signal transmission depending on customer needs. Several enclosure options are available including general purpose with and without DIN rail mount, NEMA explosion-proof and ATEX approved explosion-proof. CE compliant units are optionally available. The architecture of these units utilizes a combination of different circuit boards to create the many different options. Each unit is capable of holding three boards.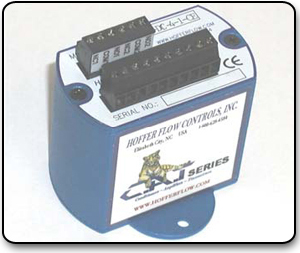 There are three varieties of the CAT Series. The CAT1 is an intelligent loop powered 4-20 mA transmitter with linearization, the CAT2 is a signal conditioner offering a variety of output options and also optional high and low flow rate alarms, and the CAT3 is an intelligent signal conditioner with linearization and provides a pulse output scaled per unit of flow and optional high and low flow rate alarms. For more information on this unit, contact us today at 1-800-628-4584 or visit us on the web at www.hofferflow.com.