HOFFER INSERTION METERS USED FOR LEAK DECTION IN PIPELINE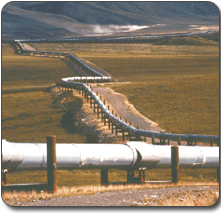 Hoffer Flow Controls
continues to supply many insertion type turbine flowmeters to the petroleum pipeline industry. This type of meter commonly used for leak detection and not custody transfer. Custody transfer applications are addressed with in-line axial flowmeters such as the Hoffer API Series. Leak detection flow applications, for checking the integrity of the pipeline, can be addressed with the HP Series of insertion turbine flowmeters.
The principle of operation for an insertion type turbine flowmeter is much the same as an in-line turbine flowmeter. The insertion meter includes a rotor assembly and pickup coil. The flowmeter measures velocity at a specific point in the fluid stream. Volumetric flow can be inferred provided the I.D. of the line is known. Accuracies can approach ±0.25% depending on the type of transmitter specified with the flowmeter.
Insertion turbine meters
provide multiple advantages when compared both to in-line turbine flowmeters and other types of flowmeter technologies. These advantages include low cost, negligible pressure drop, low installation costs, minimal potential points of leakage, and avoidance of high pumping costs. Additionally, the HP insertion turbine flowmeter can be specified for use in velocities up to 50 FPS. This allows pipeline companies to move a maximum amount of product in the shortest time possible.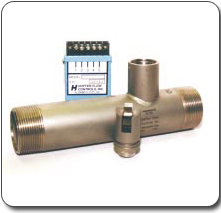 Leak detection and pipeline integrity is not only essential to the bottom line for the pipeline company, it is an environmental issue. In California, in particular, Hoffer has supplied insertion turbine flowmeters for pipeline integrity verification. Many of the petroleum products being measured include the additive MTBE. Proper selection of the flowmeter seal is essential for any application, however, is sometimes more challenging with various additives factored into the equation. Hoffer has successfully specified and supplied the insertion turbine flowmeter for a wide cross section of pipeline applications.
The HP Series flowmeters
are available in both low pressure and high pressure versions. The unit produces a frequency pulse output. Hoffer can supply either a pulse producing preamplifier or an analog signal converter with the HP meter. The recent introduction of the HIT-1 smart signal converter allows user to take advantage of the excellent repeatability of the HP flowmeter. This means that users can achieve ±0.25% linearity over a 10:1 flow turndown range when they specify the HIT-1transmitter with the HP insertion turbine flowmeter.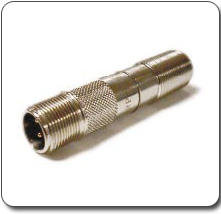 Whether your flow application calls for a linearity of ±0.15%, ±0.25%, ±0.5% or ±1% turbine flowmeter, call us. We design and manufacture a wide variety of turbine flowmeter solutions for gas and liquid applications. Let us put our flow expertise to work for you.
Rep Spotlight
TALON Technical sales provides representation for the Hoffer product line in South Texas. They have handled our line in this region for just over a year's time. Within this short period of time, they have proven to be one of our most active rep groups in the US. As a regroup, they don't come any better than the folks at TALON. Their group includes technically capable individuals who support their selling efforts both inside and outside of their office. Customers in South Texas, feel free to contact TALON to discuss any of your flow measurement needs. Their local phone number is 281-999-8588.
Redi-pulse Coil Now Intrinsically Safe
For intrinsically safe requirements, Hoffer has introduced an intrinsically safe Redi- Pulse coil. This coil meets intrinsic safety to CSA (with NRTL/C) and CENELEC. The I.S. Redi-pulse features a self-contained preamplifier in magnetic and modulated carrier types. The I.S. Redi-pulse coils are beneficial by allowing the user to produce a conditioned pulse output without a separate signal conditioner. The I.S. Redi-Pulse allows users to eliminate bulky junction boxes and running long lengths of conduit. Additionally, these pickup coils offer noise immunity and greater transmission capability. Pulse output signal options include TTL/CMOS and open collector. A user supplied power of 7.5-28 VDC is required to support the low power DC version and 13-28 VDC to support the high power DC version. Now available. Cal today.in¼"through3"sizes.
Low Cost Flow Solution
Looking for a low cost industrial flow solution? Try , featuring a stainless steel paddle wheel rotor design. The offers a rugged, dependable solution to users at the price of plastic paddle wheel meters. read for Liquid Utility and OEM applications. Call or more information on this new series.
Provides digital pulse output.
Product Catalog on CD
It's convenient, it's easy to use, it's a great reference tool - the Hoffer Flow Controls CD-ROM Product Catalog. The CD includes Hoffer Technical Data Sheets, our popular Engineering Guide, the Collection Brochure, and more. If you need information on turbine flowmeters and electronics, request this CD for comprehensive data. Provide your gas flow information and the Hoffer gas sizing program will size your gas meter. This CD also includes installation drawings for your reference. Request your Hoffer Product Catalog on CD by either calling us at 800-628-4584 or visiting our website www.hofferflow.com.