Hoffer Helps Pharmaceutical Giant "WFI" Headache
Ultrapure deionized water: Recently a Hoffer customer is commonly used in the health care industry to manufacture products such as eye drops, nose spray, and hygiene products. This highly purified water, sometimes referred to as "WFI"(Water for Injection), presents many challenges for a flowmeter. WFI is nonconductive, corrosive in nature and requires a sanitary style flowmeter. The Hoffer 3A Series meets the requirements and is used routinely throughout the industry with excellent results. The sanitary design, 316 stainless steel construction and wide turndown make the 3A Series an excellent solution for a WFI application.



Health care industry regulations require that all flow measurement and other process devices must be fully "Capable", or suitable for "Clean in Place". This means that the flowmeter must be fully cleaned when it is flushed with a suitable cleaning product or steam. The Hoffer 3A series of turbine flowmeters incorporates a design that is fully cleaned when flushed. Furthermore, this series of flowmeters is available with a hard carbon composite sleeve bearing that is suitable for steam cleaning. Other turbine flowmeter manufacturers offer sanitary turbine flowmeters with Rulon (a PTFE compound) sleeve bearings. Rulon's maximum operating temperature is typically +250° F, which is not suitable for steam cleaning above 15 psig. The Hoffer 3A meter supplied with a hard carbon composite sleeve< bearing offers a temperature rating suitable to +850° F.
Recently a Hoffer customer an international manufacturer of health care products who employs 54,000 people, looking for a solution to a problem came to Hoffer to discuss a WFI application. The flowmeters currently used in their WFI process were routinely being replaced. The cast internal assembly with a Rulon sleeve bearing was deteriorating after a few (CIP) steam-cleaning cycles. The down time, replacement cost, and potential contamination from a deteriorated set of internals required immediate attention and a quick resolution from their maintenance personnel. The customer determined that the Hoffer 3A Series turbine flowmeter was the most accurate and cost effective solution for the application.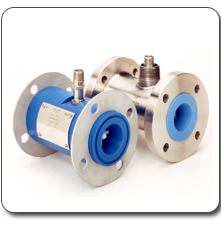 The 3A Series provides flow measurement capability from .25 to 800 GPM in flowmeter sizes ranging form 1/4" through 3". The 3A turbine flowmeter provides turndown range of 10:1 to 40:1 depending on flowmeter size. A clamp type sanitary process connection is standard and the meter is fully "CIPable". Construction consists of 316 stainless steel body and hangers (316L stainless optional), 17-4 ph stainless steel rotor, and a carbon composite sleeve bearing.
Hoffer is please to provide 3A sanitary flowmeters for the health care industry. Perhaps a process in your plant includes deionized, demineralized, or "WFI" water? Or it must meet 3A Sanitary requirements? Let us help. We have been providing turbine flowmeters throughout the world for almost 30 years.
Rep Spotlight
All wetted parts are Teflon. Recommended for corrosive service and ultra-pure water flow applications.
Teflon Meters for Corrosive Service
Features
All wetted parts are Teflon .Recommended for corrosive service and ultra-pure water flow applications.
Flow rate capability from .25 to 600GPM in¼"through3"sizes.
Available with wafer style end fittings as well as a variety of flanges including RF per ANSI instainless or carbon steel, Ring Joint, and DIN types.
Provides digital pulse output.
Suitable for clean liquid service.
Provides users with a linearity of ±1% of reading and repeatability of ±0.1% of reading.
What's New at Hoffer?
New at Hoffer is the ability to track shipments via the internet. Just access Hoffer's website at and click on the UPS icon. Provide your name and job number or PO number and our shipping department will provide the necessary information. Once you have this, tracking your shipment is a breeze. This exciting new feature provides quick information on your shipment. Coming soon, FedEx tracking.
Also new at Hoffer is a more efficient phone system. We now have voice mail and a variety of in-house features, allowing us to provide better service to you . Another way Hoffer aims to please! www.hofferflow.com