Application data sheet FAP013 GB
COUNTING OF VOLUME OF FUEL
FOR THE FILLING IN TANK TRUCKS
Customer: Louda (via Cimer)
Site: St Alban - France
Industry: Fuel distribution
Date/Qty: 2005/4 measurements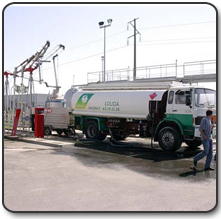 Description of the application:
The increase of the prices on the fuels involves more controls during deliveries.
If the delivery to the customer with invoicing imposes the use of approved and checked meters, the internal operations with the fuel esaler are generally left with the good liking of the operators. For example, each compartment of a tank truck is filled while using an index like gauge.
The company named Louda wanted to go further by imposing on its drivers a badge and a system of supervision of the loading carried out.
The fuels concerned are FOD, GO and Super Fuel. The flows lie between 30 and 60 m3/h.
Description of the equipment:
The pipes which connect the tanks of storage and the loading arms are in 3 inches (89 mm).
They were equipped with clamp-on probes ref. SE-1515 assembled in mode W and with supports ref. SU-1517.
MINISONIC 600-B, therefore the dual-pipe version was selected for price reasons. As there are 4 pipes, there are 2 converters. This system has, in term of budget, nothing comparable with 4 approved counting benches. Here, only supervision is concerned. However, thanks to the shortest response time and the excellent repeatability of the MINISONIC, each date and time operation of loading are recorded and allow to the Louda company to supervise the activity in real time. Four sites located in the South West of France are to be equipped.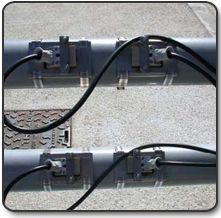 Complementary services:
A complementary and essential supply is the supervision system with badge reader and taking into account our information of counting. This service was entrusted by Louda to a regional company.
Another service, for which we assisted Cimer and Louda, is the adjustment of the equipment to satisfy the accuracy. For this, a reference tank and a tank truck to carry out the transfers had been placed at our disposal.
Particular technical specifications:
The awaited accuracy is about 1 to 2%, but with a repeatability of 0.5%.
We foresee in a seasonal way a checking with possible adjustment, the products concerned having characteristics to be sensitive to the temperature(viscosity).
The absence of information from the flowmeter to the supervision system (contact of increment of volume) stops automatically the transfer pump.