Applications data sheet FAP018A GB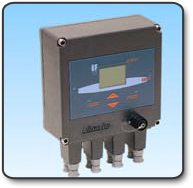 ON LINE FLOW MEASUREMENT FOR THE INJECTION REGULATION
OF CHLORINE ON DRINKING WATER SUPPLY NETWORK
Customer: SEDIF
Owner:
Générale des Eaux (a water company)
Sites:
'Ile de France" water distribution network(France)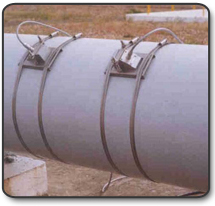 Description of the application:
Whatever the process of water treatment in the factories is, the sterilization of the water distribution networks is inevitable to take into account:
risks of bio-terrorist threats
the degradation of the water quality related to the time of stay in the pipes (from a few hours to a few tens of days) and to the nature or state of these pipes.
With this intention, the drinking water distributors inject chlorine into different points of their network. This injection is controlled according to the residual rate of chlorine and the instantaneous flow.
Description of the equipment :
Associated with the system of chlorine injection, our flowmeters deliver the value of the instantaneous flow in analogical (4-20 mA) or numerical (RS232 or 485 with protocol MODBUS or JBUS) form. The flowmeters consist of a converter UF322-L1 or MINISONIC 600/2000 associated with a pair of ultrasonic intrusive or clamp-on probes depending on the constraints of the sites. The whole equipment is generally gathered in a technical room or an independent cabinet.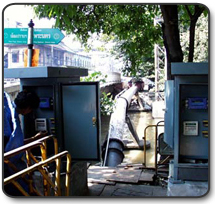 Particular technical specifications and advantages:
The choice of Ultraflux flowmeters for this kind of application has like advantages:
great extent of measurement (day/night regulation),
bi-directional measurement and without pressure loss,
the insensitivity of the probes to clogging, pressure and corrosion effects.
fast time of response,
little or none mechanical intervention on the pipes depending on the type of ultrasonic probes selected.
Similar achievements were also made in foreign countries (ex: photograph opposite, Bangkok).