Power and Plant Utilities Duct Air Flow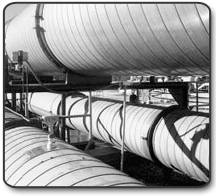 Verabar® A New Idea in Duct Air Flow Measurement The Veris Verabar is designed to be the most reliable, accurate and repeatable method of measuring volumetric or mass airflow in round and rectangular ducts. In power and plant utility measurement, the Verabar delivers precise control of combustion airflow to ensure proper fuel to air ratios yielding more stable and complete combustion. This minimizes NOx and CO emissions and optimizes plant performance.
Critical Combustion Airflow Applications
Primary Air
Secondary Air
Overfire Air
Individual Burner Air
Flue Gas
Re-circulating Flue Gas Flow
Selective Catalytic Reduction
Problems Associated with previous Measurement Technologies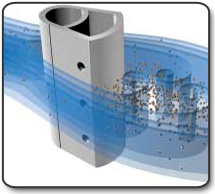 Airfoil High permanent pressure loss, difficult to install and maintain, prone to clogging and questionable accuracy due to lack of test data.
Thermal Dispersion Requires testing and calibration at different flow rates, no means of checking calibration and can cause excessive downtime due to rticulate build-up and corrosion.
Averaging Pitot Array Difficult to install requiring cutting out duct sections, low differential pressure signal,prone to clogging of sensor ports and no test data to support accuracy and straight run claims.
Higher Accuracy in Square and Rectangular Ducts The Verabar flow calculation program adjusts the flow coefficient to compensate for the higher drag in the corners of the duct.
Verabar Accuracy Verified by Independent Tests Independent flow tests verified the Analytical Model and predicted flow coefficients within ±1/2%
The Verabar Solution The Verabar is guaranteed for 5 years to deliver outstanding performance even in the most hostile environments.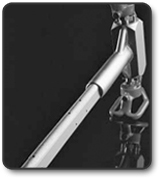 High temperatures up to 1000°F (540°C)
Heavy particulate without requiring a purge system
Moisture laden air
Corrosive atmospheres
The Verabar Bullet Shape produces the most accurate pressure distribution.
Unique side location of low-pressure ports prevents clogging and produces a stable, nonpulsating signal.
Dual averaging of low pressure orts assures the highest accuracy and repeatability in minimum straight run applications.
Solid non-leak, one-piece construction.
Simple and Easy Installation Regardless of Duct Configuration Depending on the size and shape of the duct, one or two Verabars can be directly inserted through a simple weld coupling. No cutting of the duct is required. Veris engineers are available to assist in determining the exact location for maximum performance even in the most difficult short straight-run duct configurations. Verabar provides easy installation from top, bottom or side.