Mass Flow Technology for Process & Environmental Measurements
Principle - The Kurz Mass Flow Meters uses the well proven Kurz thermal convection mass flow measurement method by detecting the heat transfer from the heated RTD sensor (Rp) referenced to the temperature of the ambient gas stream RTD sensor (Rt). A constant temperature difference between the heated sensor and the temperature sensor is maintained by a modified. Wheatstone Bridge circuit in which the heated sensor is the controlled element.
This provides unexcelled speed of response and the many other advantages of constant temperature thermal anemometry. The microprocessor-based electronics measures the heat transfer, computes the standard velocity and ambient gas temperature, and allows the user to configure and set-up and the flow meter to fit all flow requirements. Display screens are east-to-use and provide all the flow, temperature and diagnostic information.
Kurz was the first to develop all-welded dual-sting sensors that have the following important features :
Direct mass flow measurements without the need for pressure or temperature correction.
High-level electronic signal output.
Exceptional low speed sensitivity.
High turn-down ratio up to 1000:1
Nearly constant percent of reading accuracy.
Low cost, easy installation.
Negligible pressure drop.
Large temperature and pressure range.
Solid-state, no moving parts, shock resistant.
Very good repeatability.
Fast response to velocity and ambient temperature changes.
Insensitivity to non-axial velocity components.
Two wire loop-powered operation.
Kurz offers three types of thermal mass flow elements :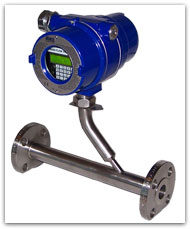 In-line Mass Flow Elements :- Kurz Series 502, 510, 522 UHP, 532, etc.
Single-Point Insertion Mass Flow Element :- Kurz Series 452, 410, etc.
Multi-Point Insertion Mass Flow Elements :- Kurz K-BAR 24, etc.
In-Line Mass Flow Elements
These are generally used for small pipes and situations in which a higher accuracy required. These are designed to include the proper upstream and down stream dimensions, screens and nozzles as appropriate, so that the mass velocity profile within the in-line flow element is flat and invariant.
Single-Point Insertion Mass Flow Elements measure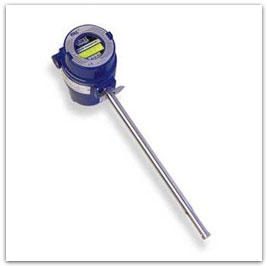 The velocity at the point in a duct or stack in which they are inserted. Therefore, the user's duct serves as the flow body and the output is dependent on the relationship between the average velocity and the measurement location velocity. For pipes larger than about 2-1/2 inches, a single point insertion mass flow element is generally used because of its simplicity and lower cost. These units are very attractive as they can easily be inserted under flowing conditions.
Multi-Point Insertion Mass Flow Elements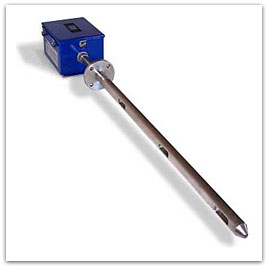 Are used in larger ducts in which each sensor is placed at an equal area location in the duct, pipe or stack.
Mass Flow Computers
The Kurz Series 155 Mass Flow Computers operate most Kurz products. The microprocessor serves as a flow computer incorporating the sensor calibration, duct area, sensor diagnostics, display, outputs, variable velocity correction factors, redundancy, etc.
Typical applications includes:
Process Gas measurements in Chemical and petrochemical plants.
Combustion air measurement for large utility boilers, co-generation plants, and other combustion processes.
Mass flow measurements for stack effluent monitoring and incinerators.
Aeration air, digester and chlorine gases in municipal waste water treatment plants.
Semi-Conductor process gas measurements and control, including Ultra-High Purity gases.
HVAC applications involving ventilation and temperature control.
Air sampling in Nuclear Power Plant and DOE facilities.