Company - For over 30 years Hoffer Flow Controls has been designing & manufacturing quality turbine flowmeter & control Instrumentation. Hoffer's initial experience was in the field of cryogenic flow measurement. Today their reputation in this field is synonymous with quality. Tens of thousands of Hoffer Turbine Flowmeters are on the job today throughout the world in applications ranging from oil well fracturing to food processing.
Principle - Within the Hoffer Turbine flowmeter, the flowing media engages vaned rotor causing it to rotate at an angular velocity proportional to flow rate. The pick up coil on senses the spinning motion of the rotor through the housing & converts it into a pulsing electrical signal. Summation of the pulsing electrical signal relates direct to the total flow while the frequency is linearly related to flow rate.
Salient features
Wide flow range ability in liquids & gases
Outstanding Accuracy & Repeatability
Simple, Durable Field Repairable Construction.
Flexibility with associated electronic read out devices for flow rate indication, flow totalization, flow control & computer interface.
Wide variety of process connection.
Operation over wide range of pressure & temperature.
Intrinsically Safe Flow Systems are available.
Performance Characteristic
The K-Factor is a number of output pulses the flowmeter produces per engineering unit of volume through put. The linear range is that flow range over which the K-factor is constant within the specified limits of linearity. Linearity is the measure of the accuracy of the device, & is the maximum percentage deviation from the average K-factor. The Linearity of all Hoffer Flow meters is stated as percent of reading. Most other metering devices state linearity as percentage of full scale. Which implies a derated accuracy.
The repeatability is defined as allowable percentage deviation from the stated K-factor at that flow rate. For Hoffer Flowmeters, the repeatability is many times smaller than the linearity error, inferring a much greater accuracy if the known flow rate dependency of the K-factor is eliminated by the use of an external linearizing device.
End Fittings
Hoffer Turbine Flow meters are available with different end fittings as per customer's requirements. Hoffer does have a capability to understand & provide the required end fittings against your special end connection requirements.
MS Flare
NPT
ANSI Flanged
Grooved
Savage High Pressure Wing Nut
Greyloc
R-Con
SAE Hydraulic Flanged
DIN Flanges.
Ring Joint Flanged, JIS Flanges etc.
Models & Accessories
Mini Flow Meter :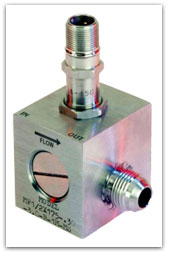 Mini Flow Meter series is a family of low flow rate measurement devices based on pelton wheel like rotor. The series offers flow measurement from 0.007 GPM to 3.5 GPM in twelve over lapping ranges. The MF Series Mini Flow Meters may be applied as a high accuracy flow transducer for many low gas flow applications.
Insertion Turbine Flow Meter :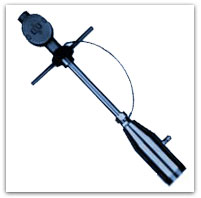 The HP Series Insertion Turbine Flow Meters are designed for measuring liquid & gas flowing medium to large diameter pipes with accuracies inherent in the turbine flow meter at a substantially lower price than inline flow meters. Insertion are designed to be installed, removed & positioned without interrupting the pipeline flow.
Flow Computer & Indicator :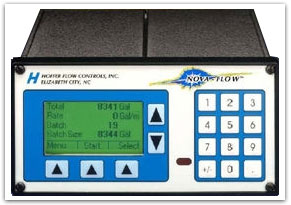 Hoffer's series of flow computer & indicator to handle a variety of flow applications ranging for simple volumetric flow rate indication/ tantalization to mass flow measurement. Standard features include flow meter linearisation & RS 232 or RS 485 communications. Hoffer does have specialized flow computers for various applications like Batch Processing, Cryogenics, CNG etc.
Additional Products
CNG Dispenser; Nitrogen Skid; Cryogenic Prover; printer; Signal Conditioners, Installation Kits etc.
Applications:
Custody Transfer of petroleum products; Cryogenic Applications like LOX, LN2, LH2; Test Benches; Country run petroleum pipeline products; Loading System; other special applications includes DM Water, Hydraulic Oil, Oil well, Gas Turbines, Provering Systems, water pipelines, chemical metering etc.