Combustion Gas Analyzer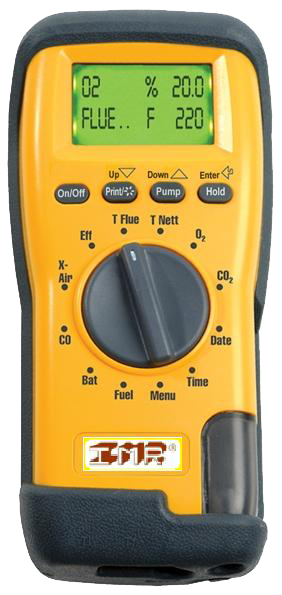 The IMR1000 is a hand held pocket size stack gas analyzer for combustion tests on boilers, burners, etc. The IMR1000-1/2 has up to two sensors with a 2-line LCD.
Features
Up to 3 sensors
Small and rugged
Easy to operate
Light weight
Memory
Infrared Interface for printer
Protective boot with integral magnet
Large backlit display
Reliable Technology
Easy to service
Displayed parameter can be chosen
Measured parameters:
Oxygen O2
Carbon Monoxide CO
Carbon Monoxide CO (ambient)
Flue-Gas Temperature
Calculated values:
Combustion Efficiency
Excess Air
Carbon Dioxide
CO corrected to 0% O2
Standard
Enclosure:
Rugged plastic case with protective boot and magnet
Fuels:
Natural Gas, Propane, Butane, LPG, Light Oil
Measuring units:
ppm, mg/m3
Service program:
Check of all values
Zero point calibration:
Max. 60 seconds
Battery:
> 8 hrs
Languages:
English, German, French, etc.
Condensation trap:
Integrated filter
Operating Conditions
32-104°F / 0-40°C;
10-90% rel. humidity, non- condensing
Gas sampling probe:
Thermocouple Type K;
∅ 0.25"/ 6mm; Length 9"/220mm; Hose 9'/3m
Power Supply:
4 x AA
Weight
2.2lbs / 1kg
Dimensions
7.9x1.8x3.5" / 200x45x90mm
Specifications
| Features | IMR1000-1/2 |
| --- | --- |
| Rotary selector | |
| Memory positions (various tests) | 20 |
| Infrared printer port | |
| Backlit display | 2 lines |
| Boot with integral magnet | |
| User programmable headers | |
| Time & date stamp | |
| 1 yr warranty | |
| Temp Measurement | |
| --- | --- |
| Flue Temp Range | 32 ~ 1112°F / 0 ~ 600°C |
| Inlet Temp Range (Ambient) | 32 ~ 1112°F / 0 ~ 600°C |
| Net Temp (ΔT)** | 32 ~ 112°F / 0 ~ 50°C |
| Resolution | 1°F/°C |
| Flue (T1, Inlet T2, & Net ΔT) Accuracy | ±[0.3% rdg +5°F(3°C)] |
| Inlet Temp Ambient Accuracy | ±[0.3% rdg +1°F(1°C)] |
| Gas Measurement | |
| --- | --- |
| Oxygen | 0 ~ 21% |
| O2 Resolution/Accuracy | 0.1% / ±0.2%* |
| Carbon Monoxide | 0 ~ 1000 ppm |
| CO Resolution/Accuracy | 1 ppm/±10 ppm < 100 ppm* |
| Carbon Dioxide** | 0~30% |
| CO2 Resolution/Accuracy | 1.0%/±0.3% reading |
| Efficiency** | 0 ~ 99.9% |
| Efficiency Resolution/Accuracy | 0.1%/±1.0% reading |
| Excess Air** | 0 ~ 250% |
| Excess Air Resolution/Accuracy | 0.1%/±0.2% reading |
| Pressure (Differential) | |
| --- | --- |
| | Range ±0.2mBar 0.08"wg |
| | Range ±1mBar 0.4"wg |
| | Range ±80mBar 32"wg |
Dimensions
Weight
2.2lbs. with boot
Handset
7.9 x 1.8 x 3.5"
Probe
11.8 x 0.25 x 9.4" stainless steel shaft,
type K thermocouple (9' hose)
Operating temp
0 to 40°C/10% to 90% Relative Humidity
non-condensing
Battery
x4 "AA" cells / 12 hour life typical with
Alkaline "AA" cells
Warranty
1 year limited warranty
Optional

AC adapter with rechargeable batteries
Infrared printer
Soft carrying case
Hard carrying case


1000-1 O2, condensation trap, gas sampling probe, batteries, manual
1000-2 O2, CO, condensation trap, gas sampling probe, batteries, manual